Get the most out of your sessions at the least cost in the market. As fellow tutors, we understand exactly what is needed to optimize your and your students' experience. Save at least 15 minutes for every hour you spend tutoring, thus getting a much higher return on your investment in SmartyBubble.

Starter
Monthly payment

1-30 Active Users
Premium
Monthly payment

31-60 Active Users
Enterprise
Monthly payment

61-100 Active Users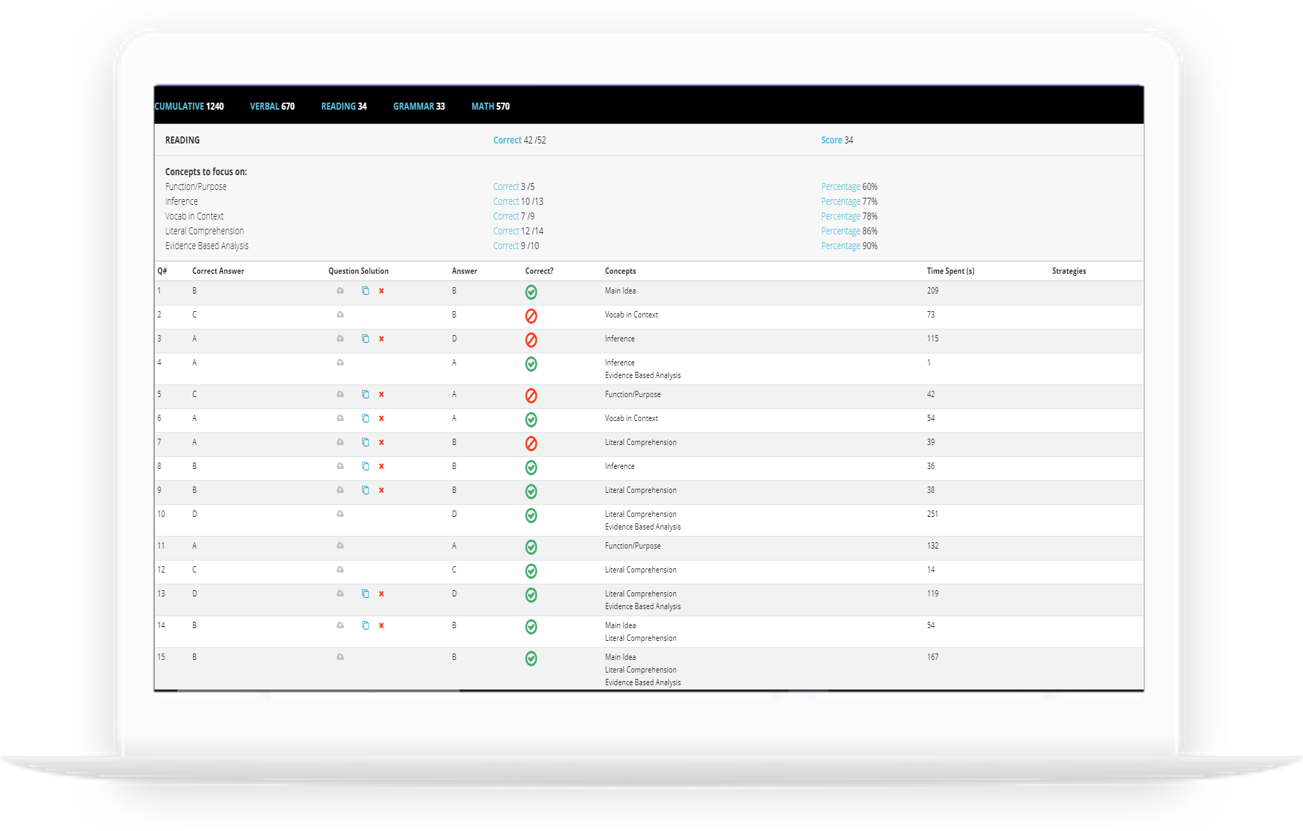 Smooth Sessions
No More Hiccups
SmartyBubble allows you to look at solutions while you are explaining a problem to the student. It also gives the answer that the student picked, the strategy required to solve the question, the category that the question belongs to, and the time that the student took to answer the question. You will never have to struggle with your explanations again! 
Data Analysis
Magnify Your Insights
With Smarty Reports, get every minute detail that you can use to understand your students' performance. Use the Overview Bars and Bubble Charts to get the big picture. Use detailed reports for every single question ever attempted by your students to manage the quality of your content. Use Aggregate Answers for each test to understand the impact it is making in your sessions. Quickly find out which concepts your students are struggling in with Concept Reports.
Smartybubble
Frequently Asked Questions
1. What do you mean by "Active Users"?
An active user is a student who has taken a test on Bubble in a given month. You'll be able to create accounts for all your students, but you'll only be billed for the active students that month. And when students finish their curriculum, their account data will be archived at no additional cost.
2. How does using Bubble save time?
Our team used to grade homework for 10-15 minutes at the beginning of each session. At 10 tutors, 20 students each, that's about 50 hours a week of valuable instruction time lost. With Bubble, you can see live updates as your student is working, and you'll get a full score report upon completion.
3. Does Bubble just work for homework assignments?
Nope. You can host proctored exams for every student you have at the same time. Even when taking different tests, students will be kept to the appropriate timing. All your proctor has to do is click one button and kick their feet back.
4. What does Bubble do with my student's data?
Bubble builds a Concept Profile and gives it to your tutor, making their instruction more efficient. Bubble can also build tutor profiles, company, and school profiles.
5. How does Bubble improve my company results?
It's not just time optimized. Bubble has concept tags, solution demos, shortcuts, and time spent for each problem your students attempt. With these insights, tutors can identify not only which concepts a student needs work on, but which concepts a student is more likely master.
6. What's one fun fact about you?
Yes, so into ice-breakers…
One time our team got to eat lunch in the same cafeteria as the Baltimore Ravens.
Help us improve by giving your valuable feedback. In return, we will extend your free trial. You can also extend your trial by referring us to other companies.